Enhancing performance and user experience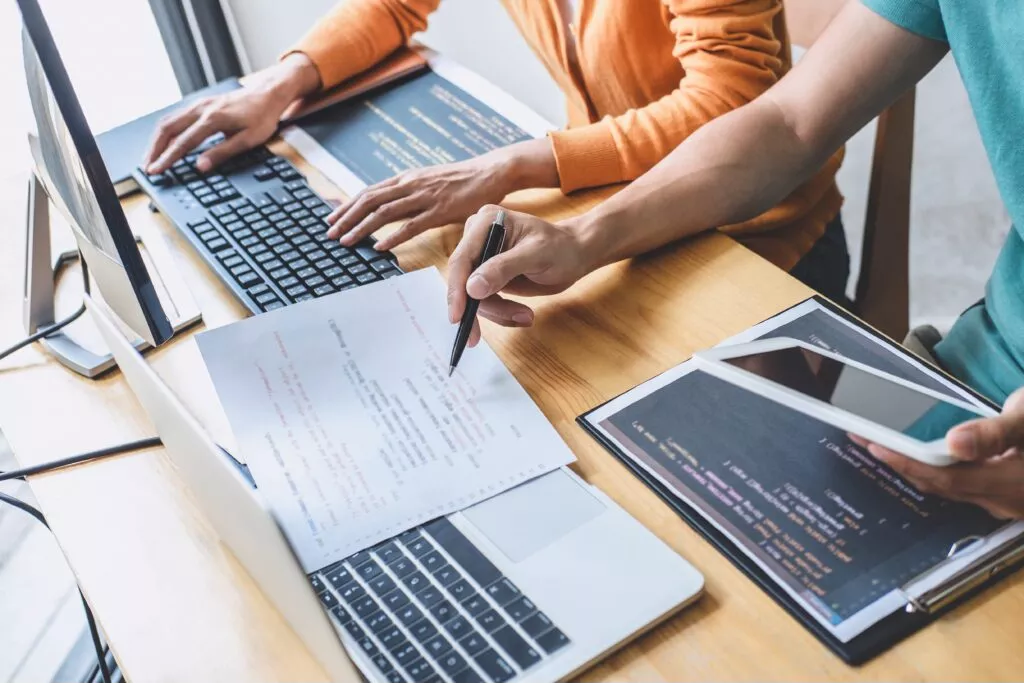 In a digital world where competition is fierce, the technical optimization of a website is a crucial element to ensure a smooth user experience, enhance performance, and strengthen its search engine ranking. At ATI4, we understand the significance of developing a tailored development strategy based on your needs and expectations to help you achieve your goals.
Our objective is to ensure that prospects arriving on your page have the best possible experience, encouraging them to become potential customers who will return in the future. Leveraging our expertise and the use of Magento 2, we can effectively tap into your market.
In this article, we will present various strategies and best practices to implement for the technical optimization of your website. From loading speed to mobile responsiveness, content optimization, and security measures, we maximize your ROI by delivering a meaningful user experience.
Optimizing Loading Speed 💻
Today, fast loading times are crucial to retaining visitors on your site. That's why we emphasize technical optimization to create websites that are lighter, more visible, and more high-performing.
Reducing the size of CSS and JavaScript files and utilizing a Content Delivery Network (CDN) for swift content delivery contributes to an overall better site performance and enhances the conversion rate.
The dimensions and file sizes of multimedia content on your site should be as lightweight as possible: choosing the right format, applying effective compression, and ensuring appropriate dimensions all help reduce bounce rates and make a significant impact on your site.
Optimizing Website Structure 🔗
One crucial aspect: the HTML markup of your site. It might sound a bit technical, but it's vital for making your site more accessible and search engine-friendly. Proper and well-structured HTML markup is essential for enhancing accessibility and search engine indexing.
Creating multiple backlinks helps highlight your site's content and serves as a trust indicator for Google. Various metrics can also be analyzed, such as page loading times, URL errors, and broken links.
Additionally, ATI4 assists you in identifying keywords that suit your target audience and needs. We optimize these keywords in your meta tags and enhance your URL structure. The goal is to enhance your ranking in search results and offer the best possible content. This approach creates a top-notch user experience with content that adds value to your visitors. The key lies in producing long, comprehensive, and diverse content!
Strengthening Security 🔐
Security is a fundamental aspect of technical website optimization. We offer security measures such as installing SSL certificates, safeguarding against SQL injection and XSS attacks, as well as regularly updating plugins and platforms to ensure your site's security.
Responsive Friendly 📱
The majority of your users will be accessing your site on their smartphones. Therefore, making their experience pleasant and streamlined is of paramount importance.
ATI4 puts in every effort to ensure your site is mobile-friendly. A fluid design, intuitive navigation, content, keywords, and fresh offerings – these are the keys to satisfying your users. Clear and intuitive layouts, readable and accessible CTA buttons across all devices, will generate quality traffic and leads that set you apart from your competitors.
At ATI4, our team is qualified and experienced to guide you through this optimization process. We are committed to providing you with personalized and high-quality support. A tailor-made development strategy will be devised based on your needs and expectations. Our goal is to assist you in maximizing your online outcomes and providing the best possible experience to your users. Don't let your website hinder your online success; reach out to us to discuss your project!
Découvrez les actus de l'entreprise.
Parce que mêler plaisir, partage et travail est au cœur de notre philosophie, nous prenons toujours soin de joindre l'utile à l'agréable..