A Magento agency, and more.
As experts in the development of Ecommerce solutions, our agency supports our clients through their growth and digitalization strategies.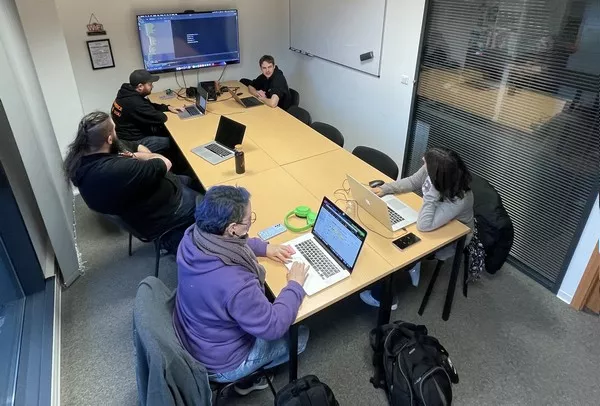 ATI4's expertise.
Magento 2 is an Ecommerce solution suited to medium to large-scale projects. We are well acquainted with this solution and our developers are certified by the editor.

More than 200 000 Ecommerce websites worldwide are using Magento 2. It is often the choice made by major brands when it comes to development.

Our expertise and client experience within ATI4 Group allow us to offer Ecommerce solutions tailored to our clients' needs.
Learn today all about our technologies and functional tools.
"Coming together is a beginning, staying together is progress, and working together is success."
― Henry Ford
expertise
In an ever-digitalizing society with leading-edge technologies, our clients from different backgrounds and of various sizes need solutions suited to their demands and constraints.
Our client portfolio is made of businesses from different fields, both in France and worldwide. The lines of business in which we have the most experience assisting are the industry, the pharmaceutical field, and the retail & services sector.
Retail and services
Pharmaceuticals
Industry
As digital strategy experts, we use our knowledge and our technologies to specialize in Ecommerce. Indeed, we help medium to large-scale companies think, develop, establish, and optimize their online store to increase their sales and expand their growth.

To this end, we use technologies such as Magento 2, which is central to our work and of which we are proudly certified users, as well as the Hyvä theme, to make sure that we provide you with an optimized development time and the best performances.
We provide two different kinds of missions: technical and functional. The type of your demands, the urgency of your needs, and the maturity of your project will determine the work pace.

We are as able to audit your existing code, analyze your infrastructure or undertake custom development as to offer our expertise on the web, on UX/UI, or on Ecommerce trends.

Together we will define how best to assist you. Contact us to talk about it!
Platform/website creation
Worldwide deployment
Migrating and securing
Site auditing and consultancy
Maintenance and evolutions
SCRUM project management
Magento training
Clients
---
40+
50% of which with international reach. We assist them in their strategic issues with tailored solutions: Ecommerce made 4 you!
Skills
---
10+
High-end expertise, the best tools to support you, and several editor certifications reside within our agency. Among them: Magento 2, Magento 2 Cloud, Adobe Commerce, Hyvä, the Atlassian Suite, and LastPass…
Talents
---
30
ATI4 Group's strength lies in their 30 Ati4 men & women spread across the country, from all professional backgrounds, and with each their own field expertise.
frequently asked questions
Something in mind?
We have listed here the most frequently asked questions from our clients. If you can't find your answer, don't hesitate to contact us!
My field is not part of the three lines of business mentioned above. Can you still provide me with an Ecommerce solution?
ATI4 Group has the most experience with the industry, pharmaceutical, and retail & service sectors, but these are not the only fields that our expertise can cover. We are able to assist a client from any type of professional sector and we would gladly strive to bring you the solution that you need.
Don't hesitate to contact us if you have any concerns on this matter.
Can you operate outside of Strasbourg, France?
Our agency is located in Strasbourg, but our clients are in Côte d'Ivoire, Canada, or even simply all over France. As it happens, one of our areas of expertise is the national and international expansion of our clients. We are perfectly able to operate and assist you outside of your localization.
Besides Magento, which Ecommerce development technologies do you offer?
Even though we use the Magento technology daily within our agency, we are above all else Ecommerce experts and enthusiasts. There are other solutions that can be implemented depending on project requirements.
In addition to a development solution for my online store, I need assistance with my marketing strategy on matters such as SEO or UX/UI. Can you provide any help?
We definitely can as we work with the best! We set our minds to creating an Ecommerce ecosystem so that our clients would only have to deal with experts in their own field.
To know more about it, you can visit our dedicated partner page.

International deployment of your business, along with remote management, is one of our core digital solutions.